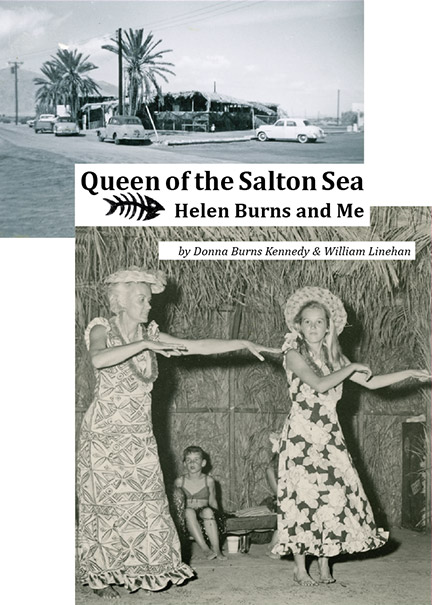 Send mail to:
Sagebrush Press
Post Office Box 87
Morongo Valley, CA 92256
(Sorry, we are not accepting submissions at this time.)
Childhood at the Salton Sea
Some childhoods are uneventful. Some are ordinary. The childhood of Donna Burns Kennedy was unusual.
Beginning in 1949, Kennedy lived with her sister and mother, Helen Burns, in a trailer at Salton Sea Beach. They were the first permanent residents. Kennedy's mom loved the sea and set out to make it her personal Hawaii. She started selling rubber lizards and other souvenirs from a roadside stand while Grandfather Floyd sold subdivision lots. With no electricity, fresh water or plumbing, the family used kerosene lamps and brought ice from town in Helen's rusty Chevy truck.
From 1949 through the 1990s, Helen expanded her Beach House into an entertainment extravaganza. With Kennedy as a reluctant participant, Helen eventually had a motel, bar, store, campground, marina, cabanas, boat landing, gas pumps, island, newspaper, festivals, parades, music, dances, luaus, ski-ins, skits, contests, dreams, frustrations, feuds and numerous floodings. She even published a newspaper, The Salton Seafarer, and wrote a book, Salton Sea Story. Helen's Beach House became the center of the West Shores communities.
In Queen of the Salton Sea: Helen Burns and Me, Kennedy combines memoir, biography and history to recapture the wonder years of Salton Sea Beach. It is a childhood story of adventure, love, loneliness, excitement, heat, insects, sand, water, salt and the expectations of dancing in her Mom's bar.

Publication date: 2018
Paperback, 6.5x9, 190 pages
ISBN: 978-0-930704-35-3
U.S. $14.95/Canada $17.95
(Plus shipping)